You're showing buyers around a property – what do you tell them?
You might talk about how great the covered patio is for barbeques or point out the views from the master bedroom. You might mention how close the school is – just around the corner!
Except, you no longer get the chance to chat about a property's benefits.
Thanks to online listings, most buyers have decided long before viewing a property whether they like it.
Statistics reveal that 97% of people looking for properties start their search online – and of those under forty, 99% are searching online.
And that's why good real estate copywriting has never been more crucial.
While great photos and accurate data help buyers narrow their selection, the listing description is what differentiates and 'sells' a property. All those things you would have pointed out during an inspection need to be in the property description.
We buy with emotion and rationalise our decision later. Good copy creates an emotional connection to the property, helping buyers imagine themselves living happily in the home.
A photograph might show the covered patio, but the real estate description helps the buyer imagine sitting there with a glass of wine, laughing with friends. It's THAT picture, the picture buyers paint in their imagination, that sells.
And that picture comes down to copywriting.
To write a real estate description that will entice buyers and sell properties, here are eight things you need to include.
1. Ask These Essential Pre-Writing Questions
Most people skip these pre-writing essentials. 
If you want to make your copy stand out, ask yourself (and your seller) these critical questions. 
Ask yourself: What type of buyer would be interested in this property? 
In other words, who is the target market?
There's an old maxim: when you sell to everyone, you sell to no one.
How you position your copy will depend on the type of buyer you think the property will attract.
For example, if it's a family home, you will want to talk about how close it is to schools and parks.
If it's an apartment aimed at downsizers looking for a lock-and-leave property, they're not interested in schools – you'll want to talk about security and proximity to the airport.
Targeting a particular buyer means you write SPECIFIC details. Don't worry; those details will resonate with other buyers as well. By all means, mention that this home would also suit investors or first home buyers, but write the overall copy for one audience.
Ask the seller: What do you love about the property?
The information the seller can give is copywriting gold. They can tell you details like how the sun warms the front living room in winter and how beautiful the spring cherry blossoms look in the yard.
When it comes to painting a picture and selling the benefits, the current owner is a wealth of information.
Ask yourself and the seller: What sets the property apart?
In copywriting terms, this is known as the Unique Selling Proposition or USP. What makes this property stand out from others?
You will want to include these standout details in your headline and the all-important first paragraph (see below).
2. Write an Enticing Headline
The headline does a lot of heavy lifting. 
It's the first impression your copy creates, and it's there to entice readers to continue reading.
No one wants to read advertising copy. A headline with a compelling promise draws the buyer into reading further.
Tips for writing a compelling headline include:
Incorporate your USP (above)

Aim for short and simple but include specific information 

Include a benefit – connect it to buyers' desires

Create emotional appeal
Typical example: What a great location!
A better headline: Modern, Spacious – Walk to Shops and Transport.
3. Hook the Reader with Your First Paragraph
The purpose of the first paragraph is to hook the buyer with the key features and benefits of the home.
Ideally, you want them to keep reading the rest of your copy, but if they only read the first paragraph, they will have a good idea of the property and whether it's right for them.
Typical example: [Real Estate Agent] presents this beautiful home suited to families, first home buyers, or investors.
A better first paragraph: With multiple living spaces, a large backyard, and the local primary school just five minutes walk away, this updated home offers easy family living in a prime [suburb] location. 
4. List the Main Features, Sell the Benefits
When we surveyed our agents, one of the main challenges they have when writing copy is effectively highlighting the benefits.
Let's first start with the difference between a feature and a benefit. 
A feature is what is included with the home. For example, a dishwasher is a FEATURE. 
A benefit answers the question: "So what?!"
The BENEFIT of having a dishwasher is easy clean up after meals.
It's important to list the main features, so people know what they are. You don't need to list every one – just the essential elements that make the home stand out and are important to your buyer.
Be accurate

Be specific

Use adjectives wisely (don't overdo it)
We BUY benefits, so it's also essential to incorporate some key benefits.
You don't need to list all of them. Instead, focus on the benefits your target buyer would appreciate. For example, busy buyers will appreciate a low-maintenance courtyard.
You will also want to point out features and benefits that are not obvious from the photos. Recent renovations, eco-friendly features, and location features help sell the property.
For the main benefit (your USP), create an emotional response by crafting a scene. The storytelling advice of 'show, don't tell' helps engage the buyer on an emotional level. 
Telling: the covered patio is great for entertaining.
Showing/storyselling: swap stories with friends over a glass of wine in the undercover entertaining area while you watch the kids play a game of backyard cricket.
5. Give Information About The Location
Not all buyers will be familiar with the local area. Some key details about the location will help buyers feel at home.
What amenities are nearby? Are they within walking distance, and is it actually walkable? If the only way to get to school is down a busy freeway with no footpath, it's not really walking distance. Keep your credibility by being real and accurate in your descriptions.
What kind of lifestyle does the location offer? Is it a quiet, family-friendly street or a vibrant inner-city location? Will weekends be spent riding bikes through nearby parkland or meeting friends at the bar? 
These details help the buyer find the right property and imagine what life could be like when they buy it.
6. Format For Readability
Prospective buyers are probably reading your copy on their phones. So you want to make it as easy as possible to read. Vast walls of text that scroll for screens won't be read.
Well formatted writing includes:
Short paragraphs, broken by lots of white space (forget what your English teacher told you – break those paragraphs up!)

Short, clear sentences. If your sentence goes on for many lines, add a full stop. Or two. (See what I did there?) Interesting writing has a variety of sentence lengths. 

Add bullet points. Some people prefer to skip the text and go straight to easily digestible summaries.

Edit for grammar and spelling, and then read your writing out loud. If it's hard to read, the sentences are probably too long.
The whole point of your real estate copywriting is to get potential buyers to take action. 
To make a booking, attend an inspection, put in an offer, or call for more information. 
Don't leave them dangling at the end of your copy; give them clear directions on what action to take next.
A good call to action summarises the main benefit, speaks to the potential buyer's desires, and creates urgency. Life is busy, and we forget if we don't act straight away. So a sense of urgency encourages people to take action right away.
For example: This spacious family home is zoned to highly sought-after schools. Don't miss your chance to secure your child's educational future. Call us today to arrange an inspection. 
8. Optimise Your Description For Search
When people search online, they use filters and search terms to narrow down the selection. That's why it's vital to add targeted keywords (search terms) relevant to your buyer.
As a busy working mum, when looking at real estate, I use the search filters to out any properties without a dishwasher. I also work from home, so I want a house with a study or home office (ideally with a door)!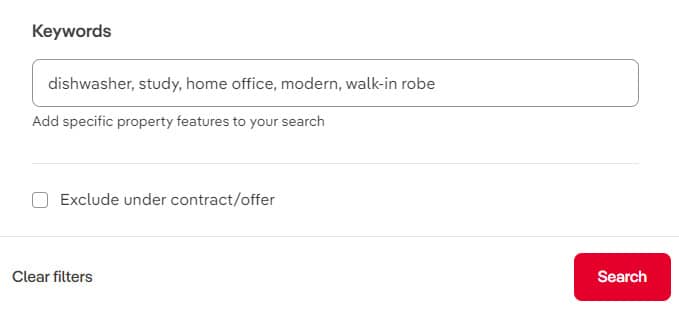 A single paragraph description will not cover all the search terms relevant to your property. If you haven't added the home's key features in your description – either in the copy or the bullet points, you're making it harder to find online. 
It takes time to write an engaging property description that includes all the right elements to make buyers fall in love with your property. When days get busy, this often becomes a last-minute, after-hours job. 
Spend your evenings relaxing with friends and family, and let us craft your real estate descriptions for you. For more information, check out our real estate copywriting services page or call to book.