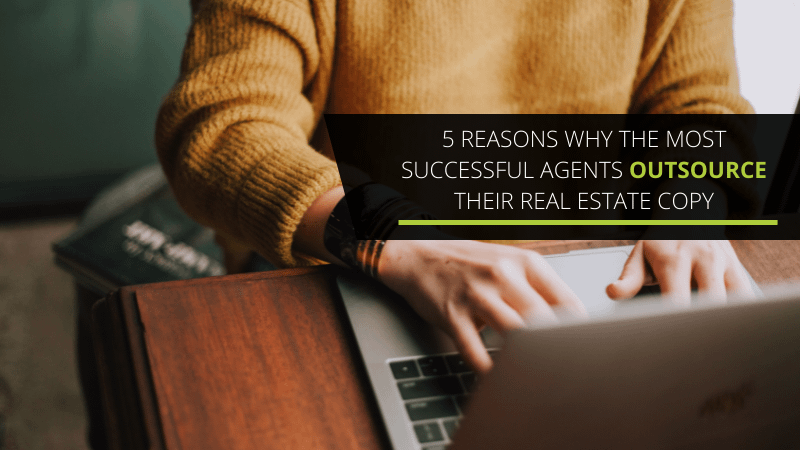 Every one of your real estate listings builds your reputation as an agent.
The question is, are you building a good reputation or a bad one?
When it comes to marketing a property, you know great photos are vital these days. You know home staging can work wonders.
People judge what you write in your listings, so professional real estate writing is more important than ever in the online market.
Crafting compelling copy takes time. You outsource your photography and staging to professionals, here are five good reasons why it pays to outsource real estate copy as well.
1. Outsourcing Saves You Time and The Headache of Writing
So much of your time is invested in prospecting, winning appraisals, organising marketing, and conducting open homes.
And then you need to write the property description. Often at home, at night, after a long day at work.
Maybe you're an agent who enjoys the creative process of crafting compelling copy that sells the benefits of the property. If that's you, great. Many agents also have finely tuned copywriting skills!
But copywriting is usually the least popular job for agents. If you find yourself staring at the blank screen or hitting the backspace key more than writing, that's when outsourcing can save you the headache.
By outsourcing, you get your property to market faster, while freeing up your time to do what you do best – sell properties!
Don't just take our word for it! Here's what one of our clients said about outsourcing:
"I have often thought about outsourcing the marketing copy, as I find it frustrating and time-consuming, and I don't always get the best feedback from my vendors.  I just didn't know where to start or who to entrust with it, as it is quite a specialised task, and time is always of the essence. I gave PPC a go after receiving some correspondence with them, and the quality was first-class. I cannot believe the writer caught the essence of the property so effectively without an onsite visit. Very impressive".
Ray White Agent, Canberra.
2. Good copy makes you stand out from the crowd and capture buyer's attention
When people are deciding whether to come to an inspection, professional photos catch the 'eye' of the buyers, and the description then fills in the gaps and appeals at an emotional level, creating a 'sense' of the property.
So to stop prospective buyers from scrolling and get them out the door to an inspection, enticing copy is vital to keep them interested.
Buyers want plenty of relevant details in the listing so they can make informed decisions about whether a home is right for them. Good copy also describes the lifestyle benefits of a property that creates a connection with the buyer.
By providing detailed and emotionally compelling copy, you're making vendors and potential buyers happy, which will help sell your property.
3. Professional copy creates extra value for vendors
Word-of-mouth or referral business is still one of the best ways to get clients. HAPPY clients beget more clients!
Vendors want their homes sold as fast as possible, for the best possible price. That means going above and beyond with a great marketing campaign that includes professional copy.
It only takes 26 seconds for someone to make up their mind about a property. If you've gone to the trouble of getting professional home styling and photography, ensure you don't blow that first impression with a poorly written real estate description.
4. Professional Copy Builds Your Brand Reputation
While your primary focus should be on selling the property, it's important to know it's not just buyers who read your listings.
Future vendors are also reading your listings and deciding whether you're the right real estate agent to sell their homes. If you want to make a good impression, your current listings need to shine.
Here's a sobering fact: 74% of online users say they tend to notice spelling and grammar mistakes and it puts them off buying from that company. So getting your copy correct is essential, not just for selling properties but for your reputation as an agent.
When you outsource real estate copywriting to a professional copywriter, we provide you with a polished description. What's more, we can ghost-write it remotely so you can claim all the credit.
"I've been using PPC since mid-2013, and my sellers have always been delighted with the copy. Whilst other agents generally include it in their marketing budget, I actually pay for this myself and don't disclose it has been done by a third party. I enjoy the accolades. Not even my colleagues know, and PPC are very discreet."
Agent/Principal, Western Sydney region
5. Great Copy Improves Opportunities for Free Editorial Promotion
When you outsource your property copywriting to a professional, you don't just save precious time; you also increase your chances of receiving additional free marketing.
Most local newspapers have a weekly or bi-weekly property supplement; the editors are always seeking slickly written copy to publish. All you need to do is submit your property editorial with a high-resolution image for their consideration.
If published, you will not only increase that particular property's exposure and delight your seller; you will also increase the exposure of your profile/brand.  Even better, there is no charge from the newspaper!
Whilst there is no guarantee that any submission will be published, it doesn't cost you to submit, and it only takes a few seconds to send an email. Don't give up or be despondent if your first few submissions don't get published; be persistent (but not annoying)!  If you DO invest in professional copy, you WILL increase your chances significantly.
Make sure, if your piece DOES get published, to flick a 'thank you' email to the editor – it will be appreciated, and of course, let the owner know…don't waste the opportunity to look proactive!
If your vendors are unsure about the value of outsourcing copywriting, we've produced a flyer that lists the benefits of professional copy. You can download it here.
Save time and build your reputation by outsourcing your real estate writing to professional copywriters. To find out how we can help you, go to our how it works page or contact us, and we can run you through the details over the phone.